This is a replay of the live coaching call from Tuesday, January 19th, 2015.
1. HOW TO WATCH
Just click the play button on the image below and you will be ready to watch! Once the video is playing, you can click on the icon in the bottom right corner of the video to make it full screen.
The sound on this video starts around the 10 second mark.
If you have any trouble viewing the video, please email [email protected].
JESSE'S GOALS IN EVERNOTE
Last night, we talked about our differences in writing down goals and how important it is to do what works for you. We promised to show you a screenshot of how Jesse sets up his goals in Evernote, so here you go…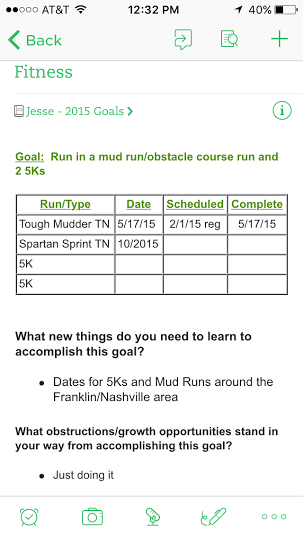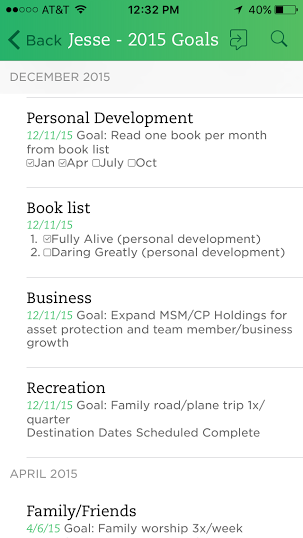 OUR PRIORITIES/FOCUS AREAS FOR 2016
For those of you who want to see how to flesh out your Priorities, Your Focus Areas, & Your Goals, here are ours for 2016:
Jesse's Priorities & Focus Areas & Goals:
Priority: Faith — Focus Area: Consistent, daily devotional time — Have personal devotions 4-6 times per week in 2016 using the HeReadsTruth.com study materials.
Priority: Family — Focus area: Consistent, daily family worship — Have Family Worship 4-6 times per week in 2016 using the Fighter Verses curriculum.
Priority: Fitness — Focus area: Working out consistently — Work out 4-6 times per week in 2016 using the Bigger, Leaner, Stronger 5-Day Split.
Priority: Finance — Focus Area: Saving early for retirement — Fully fund our Simple IRA's by the end of 2016.
Crystal's Priorities & Focus Areas:
Priority: Marriage — Focus Areas: Spend More One-On-One Time/More Fun — Have 2 overnighters without kids with Jesse during 2016.
Priority: Motherhood — Focus Areas: One-On-One Time/Quality Time, Creative Writing/Handwriting — Go through a Creative Writing program with the kids.
Priority: Myself — Focus Areas: Rest, Relaxation, Renewed Health — Spend 5 minutes handlettering every single day.
Priority: MoneySavingMom.com — Focus Areas: More Digital Products/Less Busywork & Travel — Produce
FURTHER RESOURCES: 
Chalene Johnson's 30-Day Push Program: http://www.30daypush.com/
YOUR ASSIGNMENT FOR WEEK #3:
Read the Week #3 section in the Course Handbook.
Complete Week #3 Projects in the Course Handbook.
Come prepared to learn and ask questions during the Group Coaching session next Tuesday evening.
Next week's LIVE Group Coaching session will be held next Tuesday evening (January 19, 2016) at 9 p.m. EST. We will send information next Monday and again on Tuesday with details on how to login to the Group Coaching video. You should be able to access the live videos from any computer.
Things You Might Want to Know:
The course officially began on January 6, 2016 and ends on February 2, 2016. The evening live group coaching sessions will be held via video and will be weekly on Tuesday evenings. If for some reason you cannot make the live sessions, a replay will be sent to you the following day.
You have lifetime access to all course materials, including the replays of the online training so you can access them at any time.This way, in case you are unable to work through course live with us, you can work through it later—at your own pace.
The evening coaching sessions run for an hour and will consist of 30 minutes of practical teaching and then 30 minutes of Q&A with us. You will have the ability to chat live with other course participants during the live coaching, as well as interact and ask questions of us.
The evening coaching sessions are held from 9 to 10 p.m. EST on Tuesday evenings.The three remaining sessions will be on January 19, 26, and February 2. We will send you an email the day before and day of with information on how to log into the video session.
If you are unable to attend the live Group Coaching Sessions, all participants will receive a recording of the entire session via email the following day.
Any questions on anything? Feel free to tweet at us (@moneysavingmom or @jessepaine) or send an email to [email protected]